The Spiderman Marlborough is owned and operated by Kevin & Michelle Gunn. Successfully combining their skills gained across decades in various public service industries to bring cost-effective quality services to clients.
Kevin and Michelle come from heavily regulated compliance careers, serving over 25 combined years as professional firefighters in the NZ Fire & Rescue Service and 7 years working abroad in the Gas & Oil industry.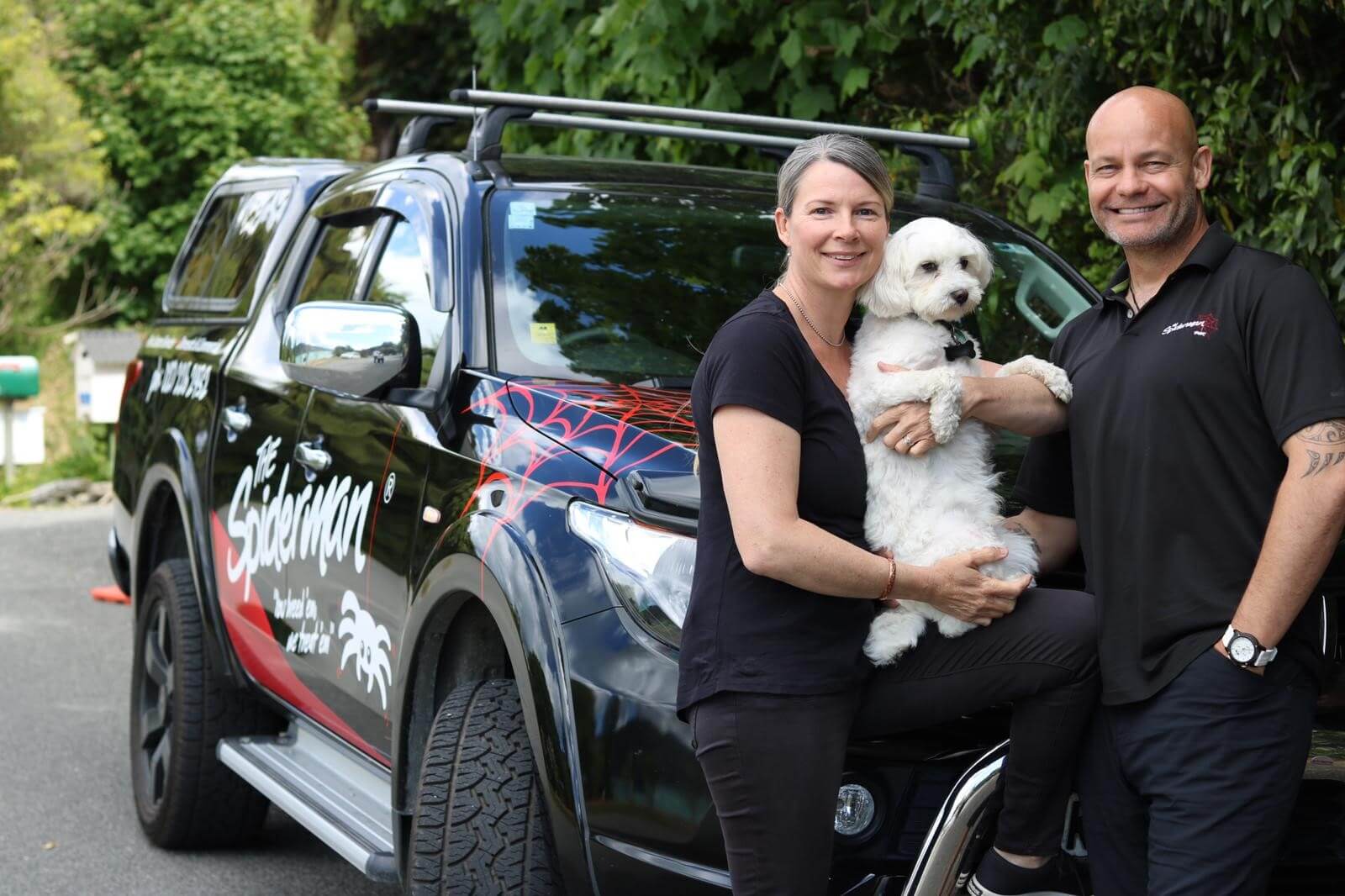 We thrive on challenges and strive to provide an exceptional experience every time ensuring customer's expectations and requirements are met through exceptional communication, a thorough assessment and understanding of our customers' issues and outcomes prior to any treatment. 
Providing pest control services is the easy bit, however delivering exemplary standards and services is what is most important to us .
Only our customers can validate such boastful claims, but our marketing analytics show that over 50% of our new business comes directly from referrals. Our reviews and feedback support that we always deliver on our promises and products.
In 2018,  we re-branded The Spiderman Marlborough to ensure that we set our Trademark apart from others alike. It was important that our new business model launched us into the market with a new sense of energy, providing a service that goes 'above and beyond' expectations, a 'let's get talked about' energy.
Our customer's needs will always be met before our own. We ensure we fully understand our customer's pest issues prior to us carrying out any treatment. At times our consultations end with no treatment at all, only advice.
Driven by our own Health & Safety Guidelines, we only provide services that protect our clients, pets & environmental health and well-being. Treatments are only performed by our Qualified Master Pest Management Technicians.
Competition in any market is necessary for customers to have the option to choose. As pest controllers each of us can offer a range of advice; collectively this becomes a wealth of knowledge for prospective clients. Well-informed clients mean people can make decisions about carrying out pest control with a sense of ease and trust.
We have had the pleasure of meeting several other pest control operators in our local area and when we are too busy to tend to urgent matters, we can offer other provider options. We encourage our community to know who their local pest controllers are by name.
Support your local businesses. It has never been a more important time to look after your community and shop near home.
We are The Spiderman Marlborough Pest Control.
Know our Trademark and Accept No Less.
and remember…
"You breed 'em, we treat 'em"
Thank you for visiting our website, we hope to one day have the pleasure of meeting you.